---
Perfumed Concert on June in the Garden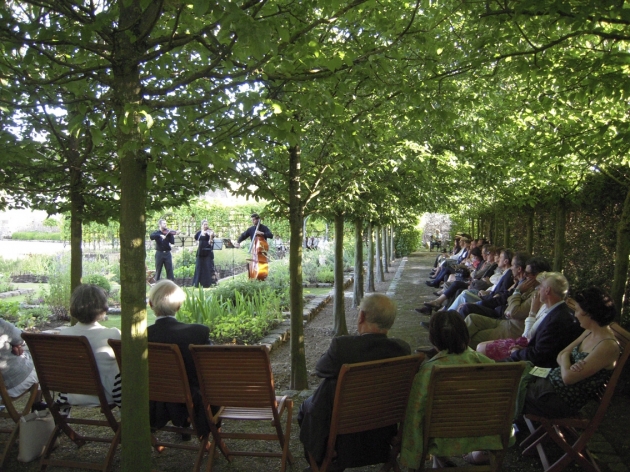 Bois Richeux and of Mozart lovers listened to extracts of Delighted Flute interpreted by Acanthus group.

In the charming cloister's shadow, in softness of a nice summer evening, each had in hand its sweet-scented cardboard-fan.

Le Prix Villandry sera remis à Bois Richeux
Le samedi 25 juin 2011 à 16 heures, Henri Carvallo, propriétaire du Château de Villandry remettra le Prix Villandry à Alix et Hubert Mourot, en présence de Jean de Lambertye, Président de La Demeure Historique, de la presse et des personnalités de la Région Centre et du Département d'Eure et Loir.

Le prix Villandry 2010 a récompensé la création du Jardin Médiéval de Bois Richeux.
Un Parfum d'herbes euphorisantes à Bois Richeux
Bois Richeux 1178, le nouveau parfum de Bois Richeux sera baptisé en présence de ses marraines avant le concert parfumé.

C'est un parfum composé des huiles essentielles de 9 végétaux aromatiques cultivés à Bois Richeux et choisis pour leurs propriétés euphorisantes.

Sa fragrance évoque les jonchées d'herbes fraiches, les siestes folles, le mystère de la forêt des Carnutes et la douceur des caravansérails.

Il sera disponible dans la nouvelle boutique du jardin, sur internet et chez Maître Parfumeur et Gantier 5, rue des Capucines 75001 Paris.